Back to Search
Dana R Mascalo, CFP®, RLP®, AAMS, C(k)P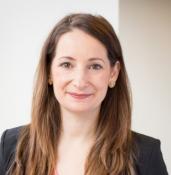 Managing Partner
TrinityPoint Wealth
612 Wheelers Farms Road
Milford, CT 06461
United States
Phone: (203) 693-8525
Fax: (203) 693-8524
Email:
dana@trinitypointwealth.com
Website:
https://www.trinitypointwealth.com
Training:
Active Registered Life Planner®
more info
As a Managing Partner, Dana brings her passion for creative, holistic financial life planning to TrinityPoint Wealth. Truly committed to having a meaningful impact both in clients' lives and at the firm, she carefully combines extensive industry knowledge and wealth management expertise with a unique planning approach — striving to make a positive difference one inspired vision at a time. Dana advises high net worth clients with complex needs and is sought after by individuals, families, business owners and executives near and far. Acting as their personal CFO, Dana looks at a client's entire financial life with a visionary lens, advising on investment portfolios, retirement planning, life transitions, exit planning for business owners, customized advanced cash-flow planning and multi-generational wealth transfer strategies. Dana believes that if clients are open to greater possibilities and are willing to realign their focus with an ignited personal vision, the highest level of fulfillment can be well within their grasp. Dana has earned the CERTIFIED FINANCIAL PLANNER® (CFP®) certification (2012), recognized as the standard of excellence for personal financial planning. Her passion for truly holistic planning led her to earn the Registered Life Planner (RLP®) designation in 2016/2017 from the Kinder Institute of Life Planning. Dana has also received the Accredited Asset Management Specialist® and the CERTIFIED 401(k) PROFESSIONAL designations. To complement her investment advisory practice, she holds life, accident and health insurance licenses and is an affiliate of the Connecticut Partnership for Long Term Care.
Specialties
Financial Life Planning, Holistic Financial Planning, Retirement Planning, Advanced Cash Flow Simulations, Fiduciary Advice, Customized & Discretionary Investment Solutions, Estate Planning Strategies & Wealth Transfer, Social Security Claiming Strategies, Coordination with Attorneys, CPAs, Life Coaches, and Trusted Advisors/Family Members

About My Practice
We are an independent investment advisory firm in Milford, Connecticut. Our dedicated financial advisors have decades of experience serving individuals and families, defined contribution plans and institutions that include endowments, foundations and non-profits. At TrinityPoint Wealth, every client is important to us. We are not here to sell you products. Rather, as fiduciaries, we provide independent, objective financial advice in an open and transparent environment, where your best interest always come first. Our highly skilled team is proactive, innovative and ready to assist you. We value the long-standing relationships we've built, and look forward to serving your financial needs and helping you achieve your goals and objectives now and in the years to come.

About Dana Mascalo
I invite you to view my LinkedIn page for more background information: https://www.linkedin.com/in/danamclaughlin

RLP ® Since
2017

Industry Start Date
2005