Back to Search
Huw Jones, CFP®, FPFS, RLP®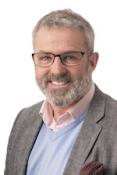 Coach | Chartered Financial Planner | Registered Life Planner | Chartered Wealth Manager | Certified Financial Planner
Proposito Financial Planning
4 Dollar Street
Cirencester, Gloucestershire GL7 2AJ
UK, England
Phone: +44 (0)1285708444
Email:
huw.jones@proposito.co.uk
Website:
https://proposito.co.uk
Training:
Active Registered Life Planner®
more info
Financial freedom comes from knowing how much is enough to achieve financial independence - that magical moment when you no longer have to work for the income to support your desired lifestyle. The result is the liberation of time to make room for more happiness, more choices and more meaning
Specialties
Money coaching, financial Life Planning, retirement coaching, sudden wealth, family business owners who are looking to plan for, and embark on, the next stage of their journey

About My Practice
Proposito has its roots in Latin and means intention, aim or purpose. The company was founded in 1998.

About Huw Jones
Huw is a money coach, Chartered Financial Planner, Certified Financial Planner, a Fellow of the Personal Finance Society and a Chartered Wealth Manager. In addition he is a Registered Life Planner. Before qualifying as a financial adviser in 2001, Huw's degree in Natural Sciences from the University of Cambridge lead him to a Mathematics teaching role. With a sharp eye for detail, fantastic analytical skills plus a love of problem-solving and numbers, Huw felt drawn to the financial services profession. He joined the firm in 1999 and qualified as a Financial Planner in 2001. With over 20 years as a planner, his experience has helped numerous clients trasnsition into reitement and enjoy their most fulfilling life.

Ideal Clients
Huw's expertise and experience is in helping people create a plan for their retirement. He then works with them to implement their plan to deliver their most most fulfilling life. A qualified money and business coach, Huw is able to draw on a range of skills and experience to help clients to identify their priorities and order those priorities in a way that delivers a full and meaningful life.

Qualifications
Certificate in Coaching and Mentoring Chartered Financial Planner Certified Financial Planner Chartered Wealth Manager Registered Life Planner Money Coach

Compensation
Fee only

RLP ® Since
2019

Industry Start Date
1999