Back to Search
Elliott Appel, CFP®, CLU, RLP®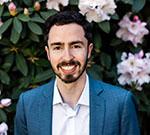 Financial Planner and Founder
Kindness Financial Planning
Madison, WI 53705
United States
Phone: 206-651-5097
Email:
elliott@kindnessfp.com
Website:
https://www.kindnessfp.com
Training:
Active Registered Life Planner®
more info
Elliott Appel is a Madison, WI fee-only financial planner serving clients virtually across the United States.
Specialties
I focus on helping widows, caregivers, and families affected by major health events.

I regularly help people organize, simplify, and prioritize their financial life. Once that is done, a system can be developed that puts you back in control.

Tax planning is a vital part of a relationship. Whether it is analyzing opportunities for Roth conversions, how to give tax-efficiently to charity, or how best to gift to family, it should be discussed in the context of your values.

Reviewing your estate plan is also very important. Are the right people in the right roles? Is your plan setup as it should be?

Once life planning is done, an investment plan can be designed to help you live your ideal life.

No plan is complete without insurance guidance. A review of your home, auto, and umbrella insurance is vital. Insurance is the backbone of a good financial plan.

Whether you are about to lose a loved one, recently lost a loved one, or simply feel stuck in your financial life, I'd like to talk with you.

About My Practice
Kindness Financial Planning was founded in 2021 to provide financial planning and investment management to widows, caregivers, and families affected by major health events.

Although I am based in Madison, WI, I work virtually to serve clients across the United States.

About Elliott Appel
I spent 10 years at a large wealth management firm in Seattle before going through my own life planning and deciding I wanted something different for my life. I decided to launch Kindness Financial Planning shortly after.

I'm passionate about connecting the emotional side of money with the technical side of financial planning.

Industry Start Date
2012